Official Social Programs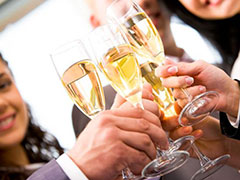 Welcome Reception
Sunday, October 25, 2015, 19.00-21.00
Kempinski Hotel Corvinus (H-1052 Budapest, Erzsébet tér 7-8.)
Included in registration/accompanying partner fee
(Additional tickets available for 45 EUR)
Refresh yourself after travelling with drinks and buffet dinner. Come together with your colleagues at the Forum venue in the heart of the city!
Gala Dinner
Monday, October 26, 2015, 19.30-23.00
Lázár Equestrian Park (H-2182 Domonyvölgy, Fenyő u. 47.)
Included in registration/accompanying partner fee
(Additional tickets available for 70 EUR)
Departure: 18.30 from Kempinski Hotel Corvinus by bus
This evening excursion will take us to the picturesque Domony Valley, which is a developing agricultural and entertainment site approximately 35 km from Budapest. This valley features the neighbourhood of Gödöllő, an area of environmental protection. The nine hectares of this beautifully maintained farm is owned by the 19 time horse coach driving World Champion Lázár brothers, and features Hungarian heritage breeds such as the wooly racka sheep and the puli, the corded coated sheepdog. The welcoming atmosphere will feature horses, live music and the best of Hungarian hospitality, dishes and wine. A visit to the Lázár Equestrian Park and a horse show are all included.
Post Forum Seminar
SETTING STRATEGIC CHANGE PRIORITIES
by Gregory H. Watson, IAQ Honorary Member and Glenn H. Mazur, IAQ Academician
Wednesday, October 28, 2015, 09.00 – 16.00
Kempinski Hotel Corvinus, Salon Bandini
Price: 200 EUR/person
This seminar will describe a state-of-the-art approach to define and prioritize critical change initiatives. The first part of this seminar will address how hoshin kanri works to set the change objectives using a collaborative approach across functions and how to present the set of proposed strategies for management decision. The second part will describe a methodology for setting "rules" that support organizational choice among competing strategies. These rules will provide an objective perspective for making business judgments about the complex situation of evaluating benefits and risks among alternative management directions.
Factory Visit
GRUNDFOS MANUFACTURING HUNGARY LTD. & AUDI HUNGARIA MOTOR LTD.
Wednesday, October 28, 2015, 08.00–18.00
Kempinski Hotel Corvinus (Forum venue)
Price: 120 EUR/person
Departure: at 08.00 from Kempinski
Grundfos is one of the world's leading pump manufacturers, which since its founding in 1945, the main concern of the world to successfully develop, manufacture and sell high quality pumps, pump systems, thereby contributing to a higher standard of living and a healthier environment. The Danish company's products sales began in 1970 in Hungary. As part of its long-term strategy Grundfos launched the production of Grundfos Hungary Manufacturing Ltd.'s first factory in Hungary, in Tatabánya in 2000.
Audi Hungaria Motor Ltd. develops and produces engines for Audi AG and other companies of the Volkswagen Group in Győr, Hungary. Since Audi Hungaria was founded in 1993, it has developed into one of the country's companies with the biggest exports and highest revenues. Audi AG is today one of the most important foreign investors in Hungary and one of the biggest employers in the region: as of December 31, 2014, the Audi Hungaria employed 11,274 people.
During the factory visit light meal and refreshments will be served. Transportation by bus.
Optional programs
Budapest Bath Tour – Széchenyi Bath
Monday, October 26, 2015, 09.00-13.00
Price: 35 Euro/person (Minimum number of participants: 15 persons)
This tour is included in accompanies' program!
Departure: 09.00 from Kempinski Hotel Corvinus (Forum venue)
Enjoy the Széchenyi Bath, the largest thermal bath in Europe, which is located in the city park of Budapest. The Széchenyi bath is supplied by two thermal water sources with a temperature of 23°C to 38°C. The bath was built in 1913 in Neo-baroque style and is named after István Széchenyi, a 19th century Hungarian politician, theorist and writer. The baths are accessible by foot and by public transportation. An English-speaking guide and entrance fees are included, please bring appropriate swim wear.
Sightseeing tour with lunch at Grand Market Hall
Tuesday, October 27, 2015, 9:00-13.30
Price: 35 Euro/person (Minimum number of participants 15)
This tour is included in accompanies' program!
Departure: at 9.00 from Kempinski Hotel Corvinus (Forum venue)
A half-day sightseeing tour highlights the most attractive features of the capital city. The participants can visit the impressive House of Parliament where the Coronation Regalia can be seen, or the Hungarian State Opera House. The Central Market is a must see for anyone who enjoys the sights, sounds and smells of markets. There are almost 200 stalls on 3 levels, with cafes and restaurants on the top floor. There are stalls with fruit and vegetables, meats and sausages and plenty of souvenirs. In the basement is a supermarket for everyday needs. The 19th century architecture is worth the visit even if you are not a shopper. Transportation is by bus, English-speaking guide, entrance fees and lunch are included.
Evening Danube Cruise & Dinner
Tuesday, October 27, 2015, 19.00-22.00
Price: 75 Euro/person (Minimum number of participants: 35 persons)
Departure: at 19.00 from Vigadó Square (Downtown-port)
During this evening sightseeing tour on the River Danube, you will be welcomed with a drink and enjoy a light dinner served on the boat. During dinner a Hungarian jazz band plays the classics. The boat travels from Margaret Bridge, past the National Theatre and along the Palace of Arts, a truly unique way to enjoy the glittering sites of illuminated Budapest.
Cancellation Policy of the Social and Optional Programs
All the cancellations and changes must be sent to the Forum Secretariat (CongressLine Ltd) in written form. All refunds will be processed after the IAQ World Quality Forum. Please send your exact bank account details in the written cancellation.
Refund of the Optional Social Events and Tours will be made as follows:
100% refund (minus an administrative fee of 15 Euro) - in case of cancellation received
before 15 August, 2015.
No refund - in case of cancellation received after 15 August, 2015
If the tour is not completed, the entire fee will be refunded.