Generally
MENU
New Venue
Budapest Marriott Hotel

H-1052 Budapest, Apáczai Csere János str. 4.
Web: www.marriott.com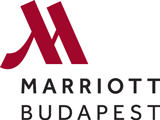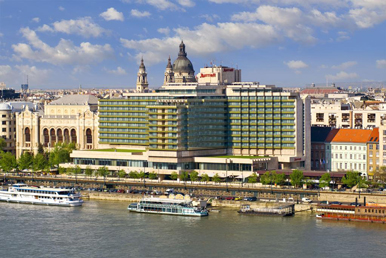 Access by public transportation
Budapest Marriott Hotel is located in the heart of the city next to the Danube river (Pest side), about 5 minutes walk from Deák Ferenc tér.
The Budapest Marriott Hotel can be reached directly by Tram No. 2. From Deák Ferenc tér the venue can be reached by metros (underground) line M1, M2, M3, trams 47,49, buses 9,16, 100E, 105 and trolley bus 72. The closest metro station (line M1) is Vörösmarty tér (3 minutes walk).
Parking
The ECCN2017 Congress venue is situated in the very downtown (mostly pedestrian) area of Budapest. Parking is very limited and very expensive. The organisers exclude any responsibility for any penalty resulting from illegal parking. Guests arriving by car can use the V1 Garage (1051 Budapest, Vörösmarty tér 1.), drive in/out from Apáczai Csere János utca towards Deák Ferenc utca. www.boe-parking.hu
Rates: 500 HUF / hour, 5000 HUF / daily
Internet
Free Wi-Fi service is available at the congress venue.
Venues OUTSIDE of congress venue (Teaching Course 16 and 9)
Institute of Experimental Medicine, Hungarian Academy of Sciences
Address:1083 Budapest, 43 Szigony street
30 August, Wednesday, 11:00-15:00
Meeting point: 10.50 at the TC venue (address above)
TC16 – EXPERIMENTAL ELECTROPHYSIOLOGY, OPTOGENETICS AND CELLULAR IMAGING
How to reach by public transportation: Take metro line M3 from Deák Ferenc tér to Klinikák metro station. The Institute is right to the left as you leave the station building.
National Institute of Clinical Neuroscience
Address: 1145 Budapest, 57 Amerikai street.
Main entrance: 1145 Budapest, 44-46 Laky Adolf street.
1 September, Friday, 07:30-11:30
Meeting point: 07.20 at the TC venue (address above)
TC9 – INTRAOPERATIVE NEUROMONITORING IN THE NEUROSURGICAL PRACTICE II. – LIVE SURGERY BROADCAST FROM THE OPERATING ROOM
How to reach by public transportation: the Institute can be entered through the main entrance at 1145 Budapest, 44-46 Laky Adolf street. Take metro line M1 from Vörösmarty tér to Mexikói út and here change to tram No 3 or 69 to Laky Adolf street (3 stops). The main entrance is about 100 m walk.
Language
The official language of the Congress is English. No translation will be provided.
CME
The
16th European Congress of Clinical Neurophysiology, Budapest, Hungary, 30/08/2017-02/09/2017
has been accredited by the European Accreditation Council for Continuing Medical Education (EACCME®) with
22
European CME credits (ECMEC®s).
Each medical specialist should claim only those hours of credit that he/she actually spent in the educational activity.
Registration Desk
The Registration Desk will be open at Budapest Marriott Hotel Lobby
| | |
| --- | --- |
| Wednesday, 30 August 2017 | 07:30-20:00 |
| Thursday, 31 August 2017 | 07:00-19:00 |
| Friday, 1 September 2017 | 07:00-19:00 |
| Saturday, 2 September 2017 | 08:00-11:00 |
Exhibition opening hours
| | |
| --- | --- |
| Wednesday, 30 August 2017 | 11:00-19:00 |
| Thursday, 31 August 2017 | 08:30-19:00 |
| Friday, 1 September 2017 | 08:30-19:00 |
| Saturday, 2 September 2017 | 08:30-13:00 |
Hotline to the registration desk and exhibition management
+36 70/608-6806
Congress Bags
Congress bags are provided for all registered participants. Please do not put personal belongings (money, ID Cards, mobile phones) in the Congress Bags, since hundreds of similar bags will be around the congress venue, and they could be easily confused. Please mark your name and contact details clearly on your bag.
Badges
Identification badges are provided along with other congress materials upon registration.
For security purposes, delegates, speakers, sponsors and exhibitors are asked to wear their name badges all times during the congress. Please also note that your congress badge assures your entrance to congress premises and catering.
Entrance into sessions is restricted for registered delegates only.The identification badges are also helpful when contacting the secretariat and other participants.
If you misplace your name badge, please go to the Registration Desk to arrange a replacement.
Lunch offer
The registration fee does not include lunch for the participants.
Special daily ECCN2017 buffet menu on site from Budapest Marriott Hotel: 22 EUR/lunch. Please visit Peppers Restaurant!
Within walking distance from the congress venue, many restaurants are available offering wide range of dishes from fast food through traditional cuisine to fine dining.
Recommended restaurant: Kiosk Budapest (1056 Budapest, Március 15. tér 4.), www.kiosk-budapest.com Daily menu is available 12.00-15.00.
Lost and Found
Any found item may be turned into the Registration Desk. Enquiries about lost items can be directed to the Registration Desk also.
Congress Organiser
CongressLine Ltd.
H-1065 Budapest,Révay köz 2.
Phone: +36 1 429 0146
Fax: +36 1 429 0147
Web: www.congressline.hu
Registration: Tamas Krasznai, office@congressline.hu
Abstract handling: Melinda Papp-Vid, pappvid@congressline.hu
Industry: Sandra Vamos, vamos@congressline.hu
---
---
Welcome Film Budapest ECCN2017
---
Budapest Business Region
---
Professional Partners
---
Supporters