Important Information
REGISTRATION AND HOTEL BOOKING
Registration is required for all trainees and it is open only for EPNS members. If you are not a member, please email info@epns.info for more information. Hotel booking is offered separately to all participants to meet more their individual agendas.
All registrations and hotel bookings should be sent online or in written form to the Course Secretariat.
One-course registration fee (240 EUR) includes*:
2-days scientific program, course materials
1 evening social program
2 lunches, 4 coffee breaks and 2 dinners
Two-course registration fee (350 EUR) includes*:
4-days scientific program, course materials
2 evening social programs
4 lunches, 8 coffee breaks and 3 dinners
Hotel costs**
Single room: 50 EUR/room/night
Double room: 64 EUR/room/night (32 EUR/person/night)
Triple room: 75 EUR/room/night (25 EUR/person/night)
*Registration fees include 27% VAT. 
**All room prices include breakfast, 18%VAT and city tax. Hotel check-in from 14.00, check-out until 11.00.
Upon receipt of the registration/hotel booking and payment, each participant will receive a confirmation from the Course Secretariat by email. If the confirmation has not been received after 1 week of the application, please do not hesitate to contact Course Secretariat via email at golob@congressline.hu. Payments sent after 1 March, 2015 may not be confirmed in written form. In this case, please bring the proof of payment with you to the registration desk. 
Any modification requests should be sent to Course Secretariat. Once modified on-site, the actual final cost of the stay should be paid at the course regsitration desk, and the extras should be paid directly at the hotel reception upon departure.
ALL ACCOMMODATION MODIFICATIONS SHOULD BE SENT TO THE COURSE SECRETARIAT, NOT TO THE HOTEL.
Cancellation terms and conditions
All the cancellations and changes must be sent to the Course Secretariat (CongressLine Ltd.) in written form. All refunds will be processed after the EPNS2016. Please send your exact bank account details in the written cancellation.
100% refund (minus 50 EUR administrative fee) in case of cancellation received before 8 February, 2016.
No refund in case of cancellation received after 8 February, 2016.
SOCIAL PROGRAM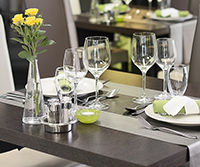 Meals
Two coffee breaks and 3-course lunch will be served daily on course days. Participants will have light buffet dinner on site at Rubin Hotel on Monday, Wednesday and Friday evenings. 
Please note that dinner at the hotel is served between 18.30 and 21.30.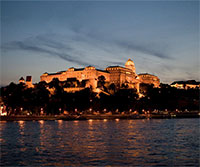 Evening Danube Cruise
Tuesday, 8 March, 2016, 18.30-20.30
Included in registration fee. (Additional tickets available for 50 EUR)
During this evening sightseeing tour on the River Danube, you will enjoy a light dinner served on the boat. The boat travels from National Theatre and along the Palace of Arts, to the Margaret Bridge, Margaret Island, a truly unique way to enjoy the glittering sites of illuminated Budapest.
Departure: at 18.00 from Rubin Hotel by bus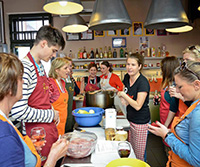 Chef Course at Chefparade
Thursday, 10 March, 2016, 18:00-21:00
Included in registration fee. (Additional tickets available for 50 EUR)
Chefparade is a real hands-on school, where everybody does it all: cutting, chopping, stirring, grilling, sautéing, in his/her station desk. NOT just passively watching BUT doing. Be a part of the FUN and get ready for practice: learn to prepare a real Hungarian style dinner! Jó étvágyat!
Departure: at 17:30 from Rubin Hotel by bus
HOW TO GET TO THE VENUE?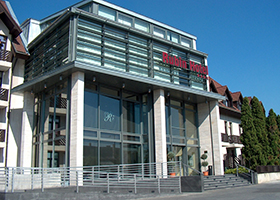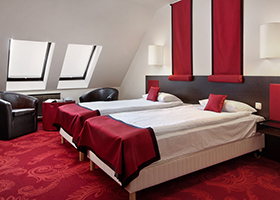 Rubin Wellness & Conference Hotel
H-1118 Budapest, Dayka Gábor utca 3.
GPS: 47.472°;19.0192° See on map
By public transport: Busses No. 53, 88, 139, 150, 239, 258, 258A, 272 has stop directly at the hotel (Dayka Gábor utca) with several connections to Metro lines and railway stations. See directions
By shuttle service: Fixed rates (cca. 6200 HUF = 20 EUR, one-way) available at AirportShuttle-Minibus Service (+36 1 296 8555; www.airportshuttle.hu)
By taxi: To avoid any inconvenience, please use the recommended taxi company: City Taxi (+36 1 211 1111, order@citytaxi.hu). Credit card payment is available in every car of City Taxi. Please note, that all licensed Budapest taxi companies have yellow cars and has same rates for all companies, placed clearly visible on the screens. Airport - Rubin route fares should be around 8000 – 9000 HUF.
By car: Two main motorways (M1 and M7) enters into the city just a few hundred meters from the hotel. Participants coming by car from Austria, Slovakia, Slovenia, Croatia can easily reach Rubin Hotel after crossing the boundary of Budapest. Parking lots are available at the hotel. Parking fee is not included in the registration fees; it should be paid by participants.
VISA
Hungary is part of the Schengen Area of 25 European countries. For non-Schengen EU, USA and Canadian citizens a valid passport is sufficient to enter Hungary. Citizens of other countries should check whether visa is needed for them when entering Hungary (for more information please visit the home page of the (www.konzuliszolgalat.kormany.hu) On request, the Congress Secretariat will issue invitation letters for visa applications. Please apply in due time for a visa if necessary and note that visa application takes 30-60 days and personal procedure is necessary.
Visa application guide
TIME ZONE
Central European Summer Time (CEST): UTC+02:00
CURRENCY
The Forint (HUF), the official national currency, is convertible. The exchange rates applied in Budapest banks, official exchange offices and hotels may vary. All the major credit cards are accepted in Hungary in places displaying the emblem at the entrance.
Exchange rate: 1 Euro = 312 HUF in December 2015.
PUBLIC TRANSPORTATION
Budapest's public transportation systems are operated by the Centre for Budapest Transport (BKK). The service includes buses, trolleybuses, trams, underground trains (Metro) and above-ground suburban trains (HÉV). Busses, trams and trolleybuses run daily from 4:30 a.m. until 11:00 p.m. Three of the four recent Metro lines interconnect at Deák tér Station (Line 1,2 and 3), Line 3 and 4 at Kálvin tér Station, while Line 2 and 4 at Keleti pályaudvar Station. All major railway stations (Keleti, Nyugati, Déli and Kelenföld pályaudvar) are connected to metro lines. Service frequencies range from 15 minutes late in the evening to every two minutes at peak times. Tickets or passes must be bought before boarding. They are available at BKK Customer Service Points, tickets offices at Metro stations, from the driver onboard the bus, but best option is to use the vending machines throughout the city. Please note that front-door boarding only policy is in place on some of the bus lines (including 200E from the airport to the city). Additionally, you can try the MOL Bubi public bike-sharing scheme as a new mode of public transport in Budapest, which consists of 76 docking stations and 1,100 bicycles. Budapest's excellent night bus system has just been upgraded to 40 lines. Please note that to make sure that everyone has a ticket, the transport company has hired uniformed security guards who check for tickets on board.
For detailed information on public transportation fares and timetables please visit www.bkk.hu.
For smartphones, official BKK INFO and BKK FUTÁR apps are available at Google Play and iTunes.
CLIMATE
The climate of Budapest is continental. In March usually nice but chilly weather can be expected with a max. temperature of 15-18°C, while the lowest temperature during the night ranging between 5-8°C. Nevertheless some rainy days can be expected.
INSURANCE
The registration fees do not include provision for the insurance of participants against personal accidents, illness, cancellation, theft, property loss or damage. Participants are advised to take adequate personal travel insurance.
CREDIT CARDS
In general, VISA, EC/MC and American Express credit cards are accepted in most restaurants, cafés, shops and petrol stations.
STORES AND SHOPPING
The opening hours of Budapest stores are generally 10.00-18.00 on weekdays and 10.00-13.00 on Saturday. The big shopping centres are open from 10.00-20.00 from Monday to Saturday and from 10.00-18.00 on Sunday.
ELECTRICITY
The voltage in Hungary is 230V, 50 Hz AC.